transit

The transfer lift without any slings.
transit transfer lift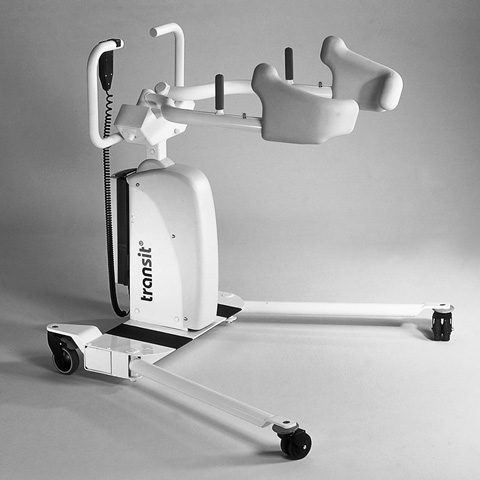 The nursing staff needs nowadays especially easy and simple aids to to bring the patient quickly from one position to another. aacurat therefore offers the top-quality product transit.
The transfer lift transit allows very easy transfer from a sitting position to a sitting position. The lift supports the patient just below the shoulders. Therefore the transit hoist requires no belts or slings. This makes the transfer procedure very comfortable for the patient.

Here is how the transit works: The patient is supported convenient and safe under the shoulders with padded and ergonomically shaped shoulder supports. No interfering straps or slings – that may handicap the removing of clothes – are required. By operating a hand switch the care-dependent person is gently lifted and placed safely back at a different location. transit can also be used with wide wheelchairs or seats by using the electrically-operated spreading of the chassis.
transit makes the transfer procedure much more pleasant for the nursing staff and for the patient. The caregiver can raise the patient with an easy touch of a button. The patient suffers no pain by interfering slings or straps during the transfer.
The electric spreading of the chassis by pushing a button allows accessing of wide wheelchairs and seats.

Have we aroused your interest? Then please contact us here.
Accessories
transit sling one-piece (1)
article no. 8277100
to support the thigh and the back, adjustable
transit sling two-piece (2)
article no. 8277200
2 pieces
distance holder (3)
article no. 8277000
adjustable, minimizing the pressure to the breast
lower leg support (4)
article no. 8276000
PUR foam, adjustable
lower leg strap (5)
article no. 8276100
to fix the lower leg


Video
Specifications
transit transfer lift
article no. 8275001
load capacity: 160 kg
lifting speed: approx. 40 mm/s
electric leg spreading and electric lifting 24 V
rechargeable battery
remote control
protection category: IP 43
weight: approx. 63 kg
Made in Germany

Custom build
Low carraige height
on demand
Allows moving under heights lower
than 60 mm resp. 90 mm

Custom build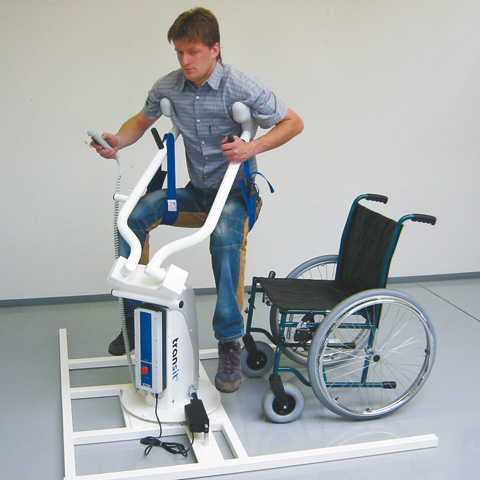 Dimensions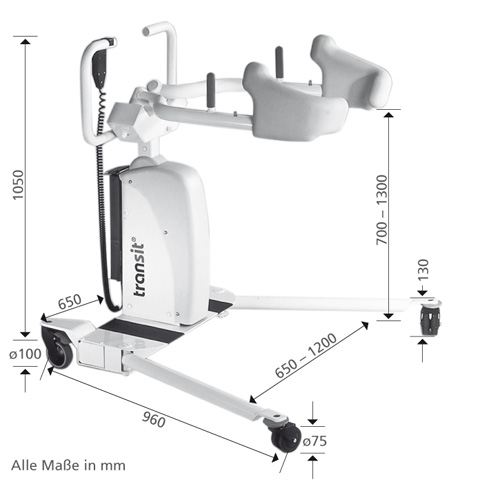 For specific questions

and problems

we would

like to

help you.

The sample image

shows a

custom build 

transit

transfer lift which allows t

he person a transfer 

from the wheelchair to

the bed

without carers or help

.

Please use

our contact form or

call us

.
Post has no taxonomies