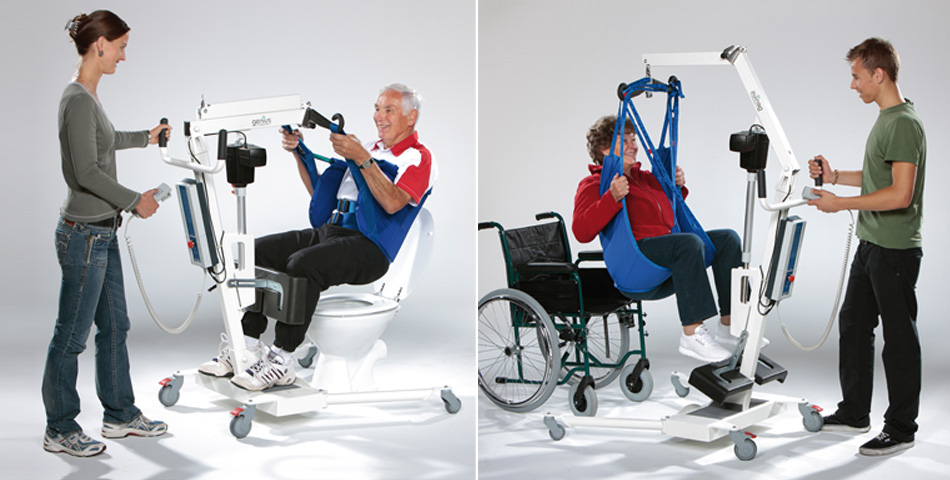 2-in-1 lift – standing up- and sling hoist in 1 device.
genius – two applications, one hoist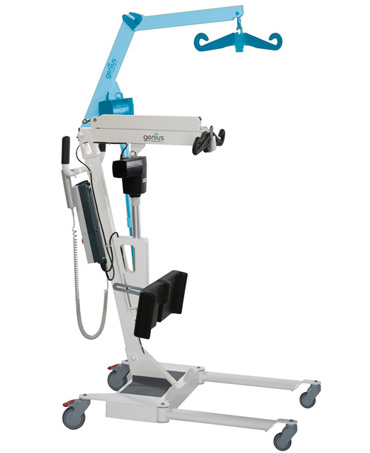 The innovative 2-in-1 lift genius from aacurat convinces with absolute flexibility in use. It can be used as a standing-uplift and as sling lift. The conversion is carried out without tools and without additional parts – see for yourself. 1 … as hoist from sitting to standing position A modern hoist corset provides spinal column support and allows the patient to be lifted up by genius in a stable and comfortable way. The posterior area is free. The hoisting procedure can be effected till a standing position is reached. 2 … as hoist with fabric sling genius offers a substantial height for multipurpose lifting applications. It also allows a hoisting from the floor. genius is a versatile helper for the care in everyday life.
Converting the lift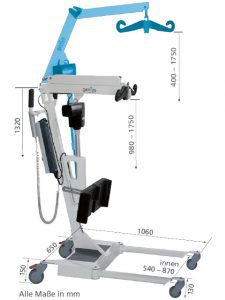 genius
UniversalLift
article no. 8805000
load capacity: 175 kg
weight: 52 kg
lifting speed: approx. 30mm/s
rechargeable battery 24 V
electrically lifting
electrically supported spread
remote control
electric protection categroy IP 44
Made in Germany
Lower leg supports
article no. 8806002
variably single adjustable
Strap foot holders
article no. 8823300

Hoist corset AK
article no. 8806000
Hoist corset AK-S (small)
article no. 8806001
without image
Low carraige height on demand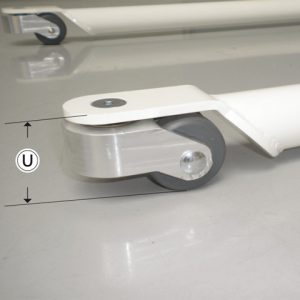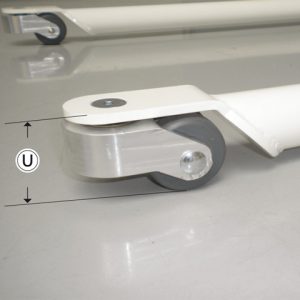 Allows moving under heights lower
than 60 mm resp. 90 mm
Indications for standing up hoist:
Considerable to fully pronounced impairment of the change of body position and walking, mostly in the case of neuromuscular damage, amputations of a lower extremity(ies) or neurological diseases.
– When other transfer and lifting aids cannot and/or can no longer be used.
– To facilitate the change of position and short distance transport within the home by an assistant/carer.
accessory no. 22.40.01.1006
We gladly introduce you our products on site at your company. If you are interested in a demonstration in our buildings in Hüttlingen, even that is no problem. Just stop by if you are around.
aacurat GmbH
gottlieb-daimler-str. 9 | d-73460 hüttlingen | +49 (0) 7361 921 920 | hilfsmittel@aacurat.de
✓
competent consulting
✓
customer intimacy
✓
short delivery time
✓
highest quality
✓
great flexibility
✓
excellent service
Questions? Please contact us!
The aacurat team has over 20 years of experience in the field of development and design, as well as in the use and application of patient lifts. Both in the stationary as well as in home care, our lifters at home and abroad have its worth. Since 2011, we have the PPS + ventral- system to a dedicated tool for intensive care. Development, design and manufacturing in Hüttlingen, Germany.